The Exploits Valley YMCA is dedicated and committed to children and families. Our child care programs deliver stimulating learning experiences that will enhance your child's social, intellectual, physical and emotional development. This enhancement happens throughout a child's daily routine which encompasses a balance of indoor and outdoor play, as well as active play, rest and quiet time. We partner with families and communities, collaborating with, and supporting one another thereby helping to build stronger communities and creating valuable resources that with assist in providing a positive learning environments and quality care for children.
Playing to Learn™    Ages 2-6
The YMCA provides an interactive curriculum for its early learning and preschool program that reflects true play as the way a child learns, manipulates their environment, and fosters continued enthusiasm to learn through choice base approach. Educators plan a developmentally appropriate curriculum based on the children's needs, interests, and their developmental levels. Learning opportunities are available that support children's development in all areas; physical, cognitive, emotional, and social. Children are exposed to a wide variety of play experiences which enhance the child's concepts through creative play activities in:
• Language and Literacy
• Math, Science and Technology
• Music, Visual Arts and Dramatic Arts
Creativity and social interaction are encouraged throughout all programs. Our goal is to encourage children to become lifelong learners.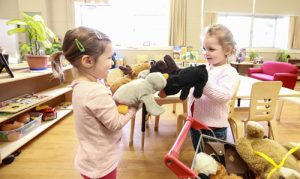 Place to Connect™   Ages 6-12
The YMCA uses A Place to Connect™ curriculum for its school aged programs. Children engage in fun activities that that they help to plan with the direction of a qualified educator. A major component of this program is creating a positive social environment where children engage in physical activity for a minimum of 60 minutes per day.
All child care staff are screened prior to employment. Our educators are certified in Early Childhood, hold current First Aid Certificate, and a Certificate of Conduct.
Registration is ongoing throughout the year for the regular year round programs.
Contact the Child Care Director at (709) 489-7413 for an application enrolment form and all information relating to registration for YMCA Child Care Programs.
To download a printable copy of the application please click here
The YMCA operates seven Licensed Child Care Centres. We offer full-time and part-time licensed programs for children from 2-12 years. Nationally, the YMCA is the single largest provider of nonprofit childcare services. Our locations are:
YMCA Children's Learning Centre
13 Prices Avenue
Grand Falls-Windsor
709-489-7413
Full Day/AM & PM Programs
Toddler Programs
Before & Afterschool Program
Ages 2 – 12 years
Monday – Friday
7:30 AM – 6:00 PM
Connections 2
20 St. Catherine Street
Grand Falls-Windsor
709-489-0800
Full Day/AM & PM Programs
Toddler Program
Ages 2 – 5 years
Monday to Friday
7:30 AM – 6:00 PM
YMCA Wee Care
Abbot Street
Peterview
709-257-3631
AM & PM Programs
Ages 2 – 7 years
Monday to Friday
9:00 AM – 4:00 PM
Summerford Centre
New World Island Academy
Summerford
709-629-3717
Full Day/AM & PM Programs
Ages 2 – 7 years
Monday to Friday
8:30 AM – 4:30 PM
YMCA Connections
20 St. Catherine Street
Grand Falls-Windsor
709-489-0800
Before & After School Program
Ages 5-12 years
Monday to Friday
8:00 AM – 6:00 PM
YMCA Woodland Afterschool
18 St. Catherine Street
Grand Falls-Windsor
709-489-4472
Ages 5-12 years
Monday-Friday
School Dismissal – 6:00 PM
YMCA Twillingate
Twillingate Island Elementary
2 Hughes Lane
Twillingate
709- 884-1800
Full Day/AM & PM Programs
Ages 2 – 7 years
Monday to Friday
7:30am – 6:00pm